UPDATE 2022:  Celsius filed for bankruptcy on July 13th, 2022. There is no affiliate program. 
Celsius Affiliate Program
The Celsius affiliate program is a great way to take advantage of the crypto hype. Cryptocurrencies are not going anywhere; on the contrary, they are getting more and more popular each year, so why not take advantage of this.
In this review, you will learn all about the Celsius affiliate program and ways you can make money using your Celsius referral code.
---
---
Celsius Affiliate Program
---
Anyone with a Celsius account can join the Celsius affiliate program.
Celsius is a borrowing and lending platform for cryptocurrencies, so if you hold any, you can not just promote the platform but take advantage of its benefits. I, personally, use it to earn interest on some of my crypto assets. You just transfer your crypto and can start earning interest (Celsius Network pays you weekly each Monday).
So how do you start promoting Celsius?
You just create a new account, and once you are in your account, you click on "Promotions" and under the Celsius referral program you will find your referral link (Desktop).
On the mobile application, you would just tap on the Celsius logo in the right bottom corner, then click on "Profile" and finally on "Refer your friends".
Your referral link will look something like this: https://celsiusnetwork.app.link/1760192c2c
When people click on your referral link, they will be redirected to the Celsius Network sign-up page with your referral code automatically filled in. In this case, you would see my referral code 1760192c2. Your referral code is always at the end of the referral link that Celsius gives you.
This means that you don´t necessarily have to send people the link but just the Celsius referral code itself. However, I don´t recommend it as then the code has to be manually entered and people can forget.
---
Celsius Affiliate Program Commission
---
What first needs to be mentioned is that Celsius Network does not pay in dollars but in Bitcoin (BTC).
At the moment they pay $50 in BTC for each referral. They used to pay $40 but increased it to $50, so it may change again.
To receive the $50 BTC referral reward, these three things have to happen.
A new user uses your referral code at the time of a sign-up.
The new user transfers at least $400 worth of crypto to their Celsius account. You can take a look here at the crypto supported by Celsius.
The new user needs to have $400 in their Celsius account for at least 30 days. This is understandable as otherwise there would be a lot of fake referrals.
Of course, once you have your BTC rewards in your account, you can send them to exchange and sell them for fiat money.
I, personally, keep the BTC reward on my Celsius account and let the compounding of weekly interest do its magic.
---
Can You Make $1000 a Month as a Celsius Affiliate?
---
Celsius Network commission is quite high, and to earn $1000 a month you would need to have just 20 referrals a month, which is not that many compared to other affiliate programs.
If your content with your Celsius promo code was read by just 10000 people, then with a conversion rate of just 0.2% you would reach 20 referrals a month.
What I like about the Celsius affiliate program is that it is not just you who receives $50 of BTC but also the new user who used your promo code. This is a great incentive as who would not want to get free BTC.
Many people claim that blockchain technology will be as revolutionary as the Internet as more and more projects are utilizing blockchain technology, and the adoption is growing rapidly. At the time of writing this article, there are 300 million people from all around the world holding some crypto. In the USA alone, 46 million people own a share of Bitcoin.
I think there will be many bumps on the road for cryptocurrencies, especially when it comes to regulations, but crypto is not going anywhere. Therefore, be it the Celsius referral program or any other crypto-related affiliate program, the crypto niche has huge potential in the upcoming years, and the affiliates can profit from it. I think making $1000 a month with the Celsius affiliate program is quite achievable.
---
How to Make Money With the Celsius Affiliate Program
---
Just like with most affiliate programs, you will have the most success promoting Celsius if your channel (be it a blog, YouTube, or any other) is targeted. Meaning in this case built around the crypto topic.
People who hold some crypto and are crypto fans will more likely want to create a Celsius account and start earning interest on their assets than someone who does not have any or is not interested in crypto.
However, that does not mean that if you don´t have a targeted channel you can´t make any money with the Celsius referral program. As mentioned earlier, crypto is very popular at the moment and more and more people are getting into it every day. If you introduce Celsius to your audience and offer them free BTC worth $50, then chances are you will get some referrals, even from a non-targeted audience. Even here on my blog, you can find my referral code. My blog has nothing to do with crypto, yet I am getting referrals. Free BTC worth $50 is just a very good incentive.
If you do happen to have a niche crypto website, I recommend using banners. I am not a big fan of banners, but when it comes to the Celsius affiliate program, they seem to work quite well. Pretty much any of your visitors can benefit from Celsius and not just someone reading your Celsius-related article. It is kind of like with the Airbnb referral program. If you have a travel blog, the chances are that pretty much anyone would be interested in Airbnb free credit, thus the travel bloggers promote it with banners placed in sidebars where they are easily visible. Celsius does not provide you with any banners, so you have to create your own in Photoshop or Canva. If you see a Celsius banner on my blog, feel free to copy it and use it.
Again, you don´t need a crypto-related website, you would just get more referrals if you did.
---
Ideas for Articles
---
Please remember that your referral must be new to Celsius; they have to create a new account.
Therefore, I would not recommend writing some specific articles about Celsius as obviously people looking for more specific information will already have accounts created.
It would be better, for instance, to have a more general article like "X Ways to Generate Passive Income With Crypto" (this is just an example, this keyword is probably too competitive and hard to rank for. Check your favorite SEO tool for good keyword opportunities). People reading such an article would be very targeted, and at the same time, they would most likely not have a Celsius account yet.
---
Is There a Celsius Alternative?
---
Celsius is not the only borrowing and lending platform for cryptocurrencies. There are many, with the biggest competitor being BlockFi.
With BlockFi you and your referral earn just $10 in BTC. But on the other hand, the referral must transfer just $100 to their BlockFi account and not $400 like with Celsius.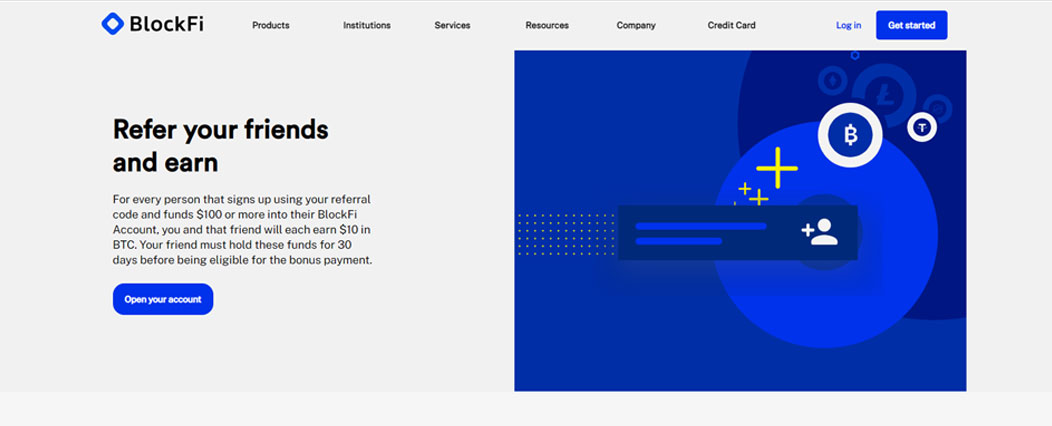 The platforms themselves are very similar. I prefer Celsius as the earning interest is higher, and at the same time Celsius, in my eyes, has more credibility as the person behind the project is Alex Mashinsky. Alex has created multiple very successful businesses and has a good reputation.
I say it in almost all my articles, but I will say it again as it is important. Never promote a product just because of high commission. Always be sure that the product/service is not a scam, it is of high quality and your visitors can benefit from it. If you want to be very successful in affiliate marketing, your visitors need to trust you. If you recommend a bad product to someone or if they even lose money because of your recommendation, they will never visit your website again and some may even spread hate, which will hurt your business.
---
Should You Join the Celsius Affiliate Program?
---
The Celsius affiliate program is one of my favorite affiliate programs.
It has all I look for in an affiliate program. It is a credible service with a high-paying commission. Moreover, it is in a very trendy niche and with a $50 in BTC incentive to those who use your Celsius referral code, which makes promoting Celsius Network a lot easier.
No matter whether you have a crypto-related blog/YouTube channel or not, you can always make some money with your Celsius referral code.
---
Related Posts:
---
Target Affiliate Program
Airbnb Affiliate Program and Referral Program
Bluehost Affiliate Program
Shopify Affiliate Program