Making money on Fiverr is a great opportunity for anyone interested in freelancing. You can be interested in making a full-time income from the comfort of your home or just looking for extra income, and working on Fiverr can make that happen.
Sellers on Fiverr can currently offer services in more than 300 categories. Some of the categories are highly specialized and require prior experience, but there are many categories that you can do without any skills.
Many categories require skills, but learning them is not difficult. It is often better to invest some time into learning a new skill that has the prospect of earning you more money than offering services that you can do now without any skills but that will make you less.
In this article, you will learn about both Fiverr gigs that you can create and start offering today without any skills and Fiverr services you could provide after little learning.
I have experience working on Fiverr, and I know anyone can succeed.
When I started on Fiverr, I started offering WordPress services. I had a little prior experience but was willing to learn. In just one month, I was earning $1.000. After a few months, $2.000, and within a year steadily $5.000.
You will often read on the internet that working on Fiverr was a fantastic opportunity years ago but is too competitive now.
Fiverr has grown exponentially, and there are now many more sellers than in 2010 when Fiverr launched, but that does not mean you cannot make money on Fiverr in 2023.
There are more sellers on Fiverr, but there are also many more buyers. In 2022, there were more than 4 million active buyers on Fiverr, double what Fiverr had in 2018. 
And the upward trend has no sign of stopping. Each year more and more people are looking for freelancers to hire for their projects.
Indeed, it is true that more and more sellers are joining the platform, but a vast majority of sellers know very little about Fiverr, and their gigs rank very low. Not to mention that many sellers offer very low-quality services and have terrible buyer satisfaction.
You will quickly outperform most of your competitors if you learn how to optimize your gigs to rank well and offer quality services.
Therefore, don't listen to people discouraging others from working on Fiverr in 2023, and start your freelancing journey this year.
If you are interested in an in-depth guide on how to be successful on Fiverr, you can check out my Fiverr Master Course that I recently launched.
---
---
1. Business Names & Slogans
WRITING & TRANSLATIONS / BUSINESS NAMES & SLOGANS
One of the services you can provide on Fiverr without any skills is creating unique brand names, catchy slogans,  or product names.
Creativity is the only skill required to do this service, thus a perfect Fiverr job for beginners.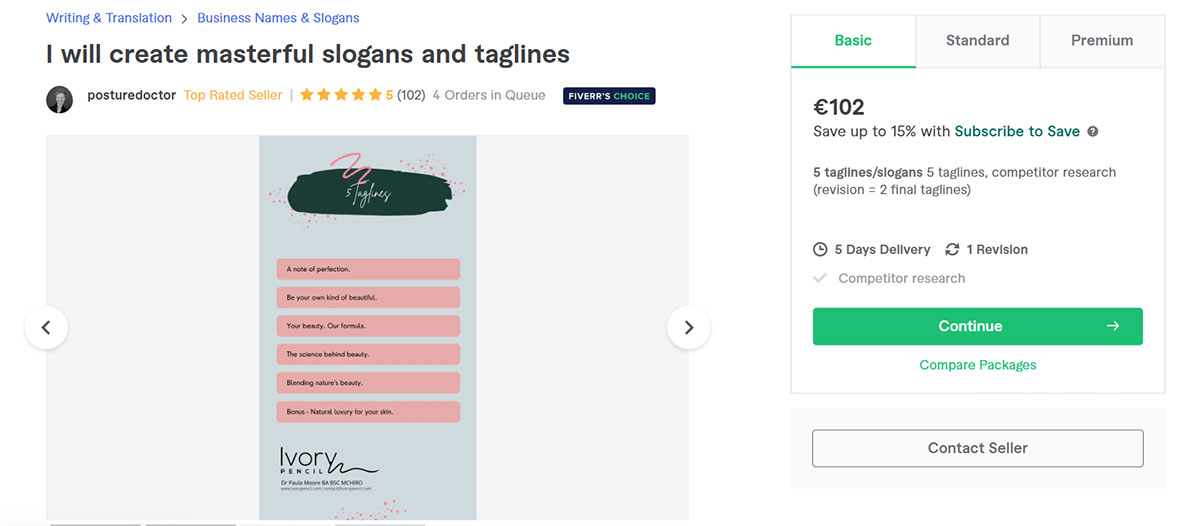 2. Domain Name Research 
BUSINESS / DOMAIN NAME RESEARCH
You would create a list of available domains for your client.
A buyer gives you basic information about their business, and you come up with a list of memorable professional domains.
Many sellers combine this service with a business name gig, as a brand name should be the same as a domain.
However, I recommend creating a separate gig for each.
---
3. Transcription
WRITING & TRANSLATIONS / TRANSCRIPTION
Transcription is another easy service you can offer on Fiverr without any skills.
You can offer transcription of an audio or video for meetings, speeches, online content, etc.
The only requirement is your language abilities. If you can't speak English, buyers will not trust you with the English transcription of their texts.
Nevertheless, you can offer transcription services in your native language.
I have seen successful transcription gigs for various languages like French, German, Japanese, Thai, Arabic, and more.
You can also offer transcription of written documents. For example, you can retype scanned documents into Word.
You don't necessarily have to be fluent in a particular language for a transcription of written documents.
---
4. Life Coaching  
When people hear coaching, they often think of coaching related to careers and business in general, but you can coach people on various topics without having any professional experience.
You just need to think of many people's problems and offer help. It can be literally anything.
For example, some female Fiverr sellers offer coaching services related to Tinder. They help buyers select the best pictures and write a bio, so girls find their profiles more attractive.
These sellers offer help for a problem many guys are facing, which is not going on any Tinder dates.

5. Beta Reading 
WRITING & TRANSLATIONS / BETA READING
In this subcategory, sellers offer to be test readers and provide feedback on books, short stories, etc.
Before publishing their work, some authors gather feedback first so they can polish it before launch.
They usually look for feedback on the pacing of their work, if explanations are clear and not confusing in non-fiction books, or opinions on characters in fiction books.
All you need to do is to read their work and provide them with answers to their questions.
Sometimes they don't have any questions and just want to hear overall impressions.
Even though anyone can offer beta reading services. I recommend this service only to people who are native English speakers.
At the moment of writing this article, Americans and English are dominating this subcategory. This is not surprising as it is understandable that buyers want a beta reader who is a native English speaker.
Some sellers offer beta reading in languages like French, German or Arabic, but based on the number of reviews and the number of orders in the queue, I can see the demand is very low. 
---
6. Spokesperson Videos
VIDEO & ANIMATION / SPOKESPERSONS VIDEOS
You don't need to be a professional actor or have expensive equipment to make spokesperson videos.
Many buyers are looking for natural selfie-style videos you can shoot with your phone.
The biggest demand is for videos in English and Spanish.
---
7. Translation  
WRITING & TRANSLATIONS / TRANSLATION
Another easy Fiverr gig that you can create without having any skills is a translation gig.
Most translations are from or to English, so you must have a good command of English.
Nevertheless, you don't have to be a native English speaker or bilingual to provide translation services on Fiverr.
8. Language Tutoring
LIFESTYLE / ONLINE TUTORING / LANGUAGE TUTORING
You don't have to be a teacher to be able to teach on Fiverr.
Many people are looking for conversational classes, and all they need from you is to talk to them in your native language and correct their mistakes.
Language tutoring without skills is easier if you are a native speaker of a language other than English.
English tutoring is more competitive, and buyers are more selective.
---
9. Proofreading 
WRITING & TRANSLATIONS / PROOFREADING & EDITING
Proofreading services are a great way to make money on Fiverr as a beginner with no experience.
Nevertheless, you should be a native speaker of some other language than English.
English proofreading services are very competitive, and buyers require some prior experience.
But if your native language is, for example, Italian, Portuguese, Dutch, or others, there is very little competition, and you can get orders without any proofreading experience.
---
10. Convert Files  
PROGRAMMING & TECH / CONVERT FILES
This is probably the easiest Fiverr gig that you can create on Fiverr.
You can find gigs that offer conversion of Word to PDF documents.
This is extremely easy, and most of you will know how to do it. And even if you don't, you can type into Google "Word to PDF" and you will see many websites with free tools that can help you convert the file in seconds.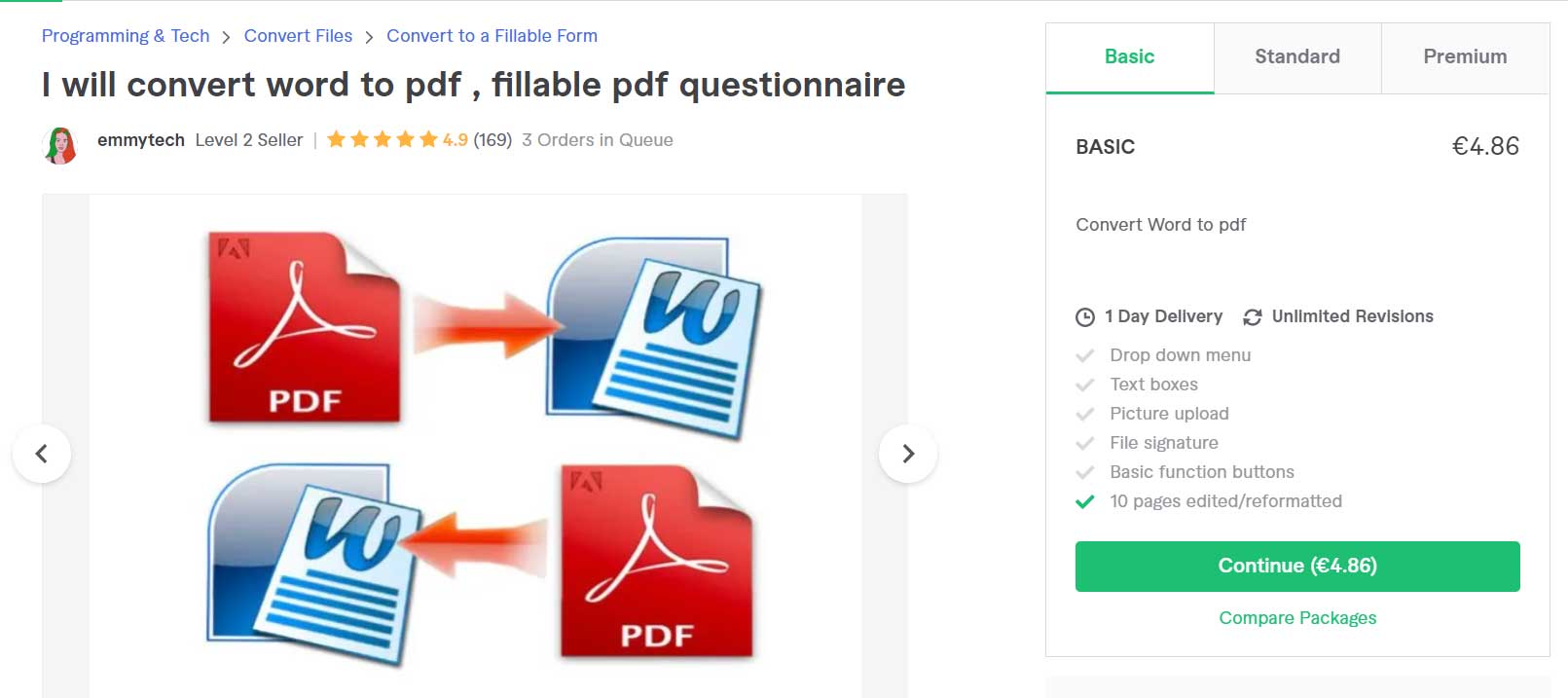 11. User Testing
PROGRAMMING & TECH / USER TESTING
People are willing to pay to test their website/application/software and provide them with first impressions.
You can provide buyers with a list of things you like and dislike about their product, what problems you encountered while testing, and your recommendation to improve the product.
---
12. Data Entry 
You can make money on Fiverr by just copying and pasting data.
Anyone can enter data into Google Spreadsheets or Excel. Buyers can do this work themselves but are often busy with more important tasks and rather outsource it.
Many sellers in the data entry subcategory also offer services like data scraping, web research or contact data collection. All of these are also very easy Fiverr jobs.
---
13. Remove Background  
GRAPHICS & DESIGN / IMAGE EDITING / PRODUCT IMAGE EDITING
Removing background from pictures is another thing anyone can do to make money on Fiverr.
If you go to Google and type "background removal", you will find free tools to remove a background from a picture.
---
14. Trip Plans  
Services falling under the traveling subcategory are also great for all Fiverr beginners.
For example, you can offer the creation of personalized itineraries, guide services in your city (if you live in a big city), or offer help with immigration-related things.
You don't need any skills and only need to invest time in research.
15. Virtual Assistant 
BUSINESS / VIRTUAL ASSISTANT / ADMINISTRATION
Virtual assistants do various things, and some can require experience.
Nevertheless, you can list services you can provide as a virtual assistant that don't require any skills.
You can offer services like data entry, web research, or general administration.
---
16. Resume Design 
GRAPHIC & DESIGN / RESUME DESIGN
Thanks to various free resources and templates on the internet, you don't have any skills to make money on Fiverr in the Graphic & Design category.
You can offer buyers a beautiful resume template. For a higher price, you can upload information into the template.
There are various places where you can template for free. The best place is currently Canva, with over 7.000 free templates.
---
17. Book Cover Design  
GRAPHIC & DESIGN / BOOK DESIGN
Very similar service to the previous one.
Canva has over 2.000 free templates that you can use and customize.
You will recognize many templates if you check the free Canva templates and then go to Fiverr to check sellers who offer book design. Most of the sellers use Canva for creating book covers. 
18. T-shirt Design 
GRAPHIC & DESIGN / T-SHIRTS  & MERCHANDISE
Another Fiverr job in the Graphic & Category is t-shirt design. There is high demand for t-shirt designs. Many people sell t-shirts on Amazon, Redbubble or Teespring
You don't have to be a Designer to make T-shirt designs. Once again, you can customize existing templates.
Besides Canva, you can also check Placeit by Envato. Placeit also has various nice t-shirt mockups.
---
19. Social Content  
DIGITAL MARKETING / SOCIAL MEDIA MARKETING / SOCIAL CONTENT
The social media marketing subcategory is very broad and includes many services requiring skills like ad setup and management or analytics and tracking services.
However, there are also a lot of services that don't require any skills.
For example, some Fiverr sellers write Instagram captions or make TikTok video ads or reels for products. 
---
20. YouTube Thumbnail Design 
GRAPHICS & DESIGN / SOCIAL MEDIA DESIGN / THUMBNAIL DESIGN
Designing YouTube thumbnails is a very easy Fiverr job anyone can do, even without any graphic design skills.
You can go to Canva, search for free YouTube thumbnail templates and modify one of the existing templates.
If you have never used Canva, you should first get familiar with it.
The great thing about having a YouTube thumbnail design gig is that you can have a lot of orders from the same buyers.
If YouTubers like the style of the thumbnails you created, they will contact you whenever they have a new video.
---
21. YouTube Intro Video  
VIDEO & ANIMATION / INTRO &  OUTRO VIDEOS
Another service you can provide to YouTubers is intro videos.
Nevertheless, unlike YouTube thumbnails, there aren't any big libraries of free templates.
But many are reasonably priced. For example, you can look at Videobolt.
Don't be discouraged if you need to pay for a tool to provide Fiverr services. You can always pay for a month or two and see how many orders you get.
22. YouTube Subtitles  
VIDEO & ANIMATION / SUBTITLES &  CAPTIONS
One more easy Fiverr job related to YouTube.
Not all YouTubers want to use the subtitles automatically generated by YouTube as they are not always 100% accurate.
You don't have to create subtitles just for YouTube videos but for any type of video.
---
23. Presentation Design  
GRAPHIC & DESIGN / PRESENTATION DESIGN
Presentation design is a pretty popular subcategory on Fiverr with a lot of demand.
If you have any experience with graphic design, providing presentation design should be fairly easy for you.
Thanks to various free templates, you can offer this service without experience.
You can find many free beautiful PowerPoint templates on the internet, even though they usually require author attribution.
---
24. Product Modeling  
Businesses need eye-catching photos/videos to transcend their products, and you can help them.
The only thing you need is to have a good camera and some creativity.
---
25. Shoutouts & Promotion   
DIGITAL MARKETING / INFLUENCER MARKETING / SHOUTOUTS & PROMOTION
You can offer shoutouts and promotion services and make money on Fiverr.
Of course, to be able to provide these services, you need to have a  popular channel (YouTube, TikTok, Instagram, etc.)
Some Fiverr sellers also offer being brand ambassadors.
---
26. Online Tutoring    
I have already mentioned language tutoring, but you can offer any kind of tutoring on Fiverr.
You only need to be savvy in a particular subject.
For example, Fiverr sellers offer chess, math, accounting, and physics tutoring.
It can be literally anything. I came across a gig with a title:

"I will choose the best haircut to fit your face perfectly"
It sounds funny, but the seller was getting decent orders.
27. SEO Audit Report
DIGITAL MARKETING / SEARCH ENGINE OPTIMIZATION / TECHNICAL SEO
Providing SEO services on Fiverr can be very lucrative, but it requires experience.
Nevertheless, one thing that does not require experience is making SEO audit reports.
There are tools that generate the audits for you, and all you have to do is insert a website domain.
Among popular SEO audit tools are Ahrefs Site and SEMrush Site Audit. They are the best, but they are not cheap.
If you search around, you can find some free Audit tools. For example, Ubersuggest Site Audit.
If you have SEO experience and can fix the issues in the report, then SEO audits can be a gold mine.
You charge little for an audit and then upsell buyers with more expensive SEO packages that address the issues in the report.
---
28. WordPress  
PROGRAMMING & TECH / WEBSITE DEVELOPMENT / WORDPRESS  
Developing WordPress websites requires skills, but they can be quickly learned.
WordPress is a CMS (content management system); thus, you don't need to know how to code or have any specialized technical knowledge.
WordPress is the most popular CMS powering over 40% of all websites, and has a big active community.
Therefore, you can find tutorials for anything related to WordPress and learn it at your own pace.
The great thing about offering WordPress development services on Fiverr is that you can have higher prices.
I have a WordPress gig and charge my clients anything from $200-1500, depending on the requirements.
Thanks to WordPress, I started making a full-time income on Fiverr only a few months after starting.
---
29. Fitness & Nutrition   
If you are a health and fitness enthusiast, you can have a Fiverr gig for creating training or nutrition plans.
You don't need to be a licensed fitness coach, but you should have proof of results.
Many Fiverr sellers have before and after pictures of themselves as their gig pictures.
---
30. Creativity    
ANY / ANY
You can create unique gigs and offer services that sellers rarely offer on Fiverr.
Some buyers don't buy services related to their business and look for funny things.
You would be surprised how much money you can make doing funny things.
For example, I came across a gig of a lady recording videos with a funny accent.
Or a guy from Bangladesh that creates funny birthday videos.
As you can see, you can make money with just some creative work that makes people laugh.
Conclusion: Fiverr Jobs Without Skills
As you can see, many Fiverr gigs require no skills. Anyone can sell services and make money on Fiverr.
However, be prepared that it is not easy to be successful on Fiverr. It is easy to make a little extra income, but if you want to make a full-time income, you need to outperform many sellers offering the same service.
Fortunately, most sellers know very little about selling on Fiverr. A lot of new sellers quickly publish a gig without doing any research on competitors and without any SEO strategy.
If you learn a bit about selling on Fiverr, you can earn much more than just a few dollars.